Norsemen
Techtree
Creator

Titus and Philipp Tscharntke

Version

3.6.0.2

Download link
File size

Varies

Archive format

Varies
Created by Titus Tscharntke, with help from his son, Philipp, and Raphael Schröder (Weedkiller), the Norsemen faction is based on the medieval-period vikings, and compliment the Indian faction well, with similar cost units ranging from a cheap and simple spearman to strong battleaxe wielders to the mighty flying valkyrie. Part of the MegaPack techtree, the Norsemen were Tscharntke's second faction, after the Indians.
History
[
]
Development of the faction was initially announced 20 November 2007, originally dubbed the "Northmen", it was renamed to "Norsemen" with a news update 29 December of the same year. A beta release was released shortly after on 3 January 2008, with the final release being combined into the second version of the MegaPack on 30 March 2008.
Units
[
]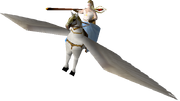 Archer
Axe thrower
Battleaxe
Battleaxe berzerk
Blacksmith
Bone tent
Castle
Cow
Crossbow
Cudgel lady
Farm
Flyingvalkyrie
House
Med_bar
Mistletree
Spearman
Spearman berzerk
Swordman
Swordman berzerk
Thor
Thortotem
Thrull
Valhalla
Valkyrie
Wild sow
Upgrades
[
]
Advanced iron
Arrow
Holy valkyrie
Iron
Med
Root
Media
[
]
The Norsemen faction contains several retextured models from Magitech, such as the wild sow (based on Tech's pig) and the axe thrower (based on Tech's worker), but there's also a considerably greater degree of unique models compared to the Indian faction.
Image gallery
[
]
See also
[
]