We're Getting Mutants in the MCU - The Loop
Play Sound

Glest and its forks currently are restricted to the G3D modeling format. Currently an up-to-date importer and exporter only exist for Blender, requiring that Blender is used for modeling or at least converting imported models. This is done with the G3D support python script, which allows Blender to both import and export G3D models.
Download
[
]
The script to use depends entirely on the version of Blender used. It is strongly recommended to use the latest version of the export script, which this page will be detailing.
Installation
[
]
In the info window, under the file option, choose "user preferences".
In this new window, switch to the addons tab and click the "install add-on" button at the bottom.
Open the python file you just downloaded.

Alternatively, it's possible to manually install the script by placing it in the Blender scripts folder. The location varies depending on where you told the installer to create this folder, and could be in the installation directory or a user directory (such as the home folder or the AppData folder).

The addon will now be found in this window, in the import-export category, under the name "G3D Mesh Import/Export". Tick the checkbox beside it to enable it.
Note that in order to be able to export in future sessions, you must save the user preferences with Ctrl + U.
Limitations
[
]
Model preparation
[
]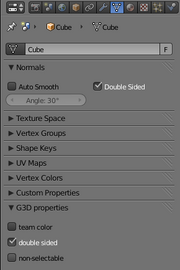 Exporting
[
]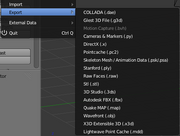 To export a model to G3D, in object mode, select the meshes you want to export (if nothing is selected, everything will be exported, then open the file menu of the info window, choose export, and select "Glest 3D File (g3d)". Choose a file location and all objects will be exported to G3D (non-compatible objects such as bones, cameras, or lights will not be exported).
Importing
[
]
To import a model from G3D, open the file menu of the info window, choose import, and select "Glest 3D File (g3d)". Choose the file to load and it will be loaded at the origin. Note that animations cannot be imported, only the meshes and UV (texture) coordinates.
Troubleshooting
[
]
See also
[
]